DSF Family Network and Brand Ambassadors
One of the facets of DSF is the Family Network and Brand Ambassador programs. Both programs are made up of caregivers of Dravet syndrome patients. These volunteers act as signposts to help guide others to our organization who are looking for support, education, and awareness. They help facilitate communication within our community, between our community and DSF, and help to further the mission of our foundation. They do this by engaging in social media, our online support groups, fundraising, and attending live and virtual events. Family Network Ambassadors are selected from each of the five regions: West, Mountain, Midwest, Northeast, and Southeast. We are looking forward to growing both programs in the coming year with the intention to have 2-3 Family Network Ambassadors per region and a cohort of five Brand Ambassadors.
Our Ambassadors are an irreplaceable part of #TeamDSF. Learn more about our Ambassadors and reach out for support. Applications are now being accepted for our Family Network and Brand Ambassador programs.
Applications for 2024 Brand Ambassadors and 2024-2025 Family Network Ambassadors open on November 6, 2023 and close December 1, 2023, with interviews taking place Friday, 12/8 through Monday, 12/11. Decisions will be finalized and announced on or around 12/18/23.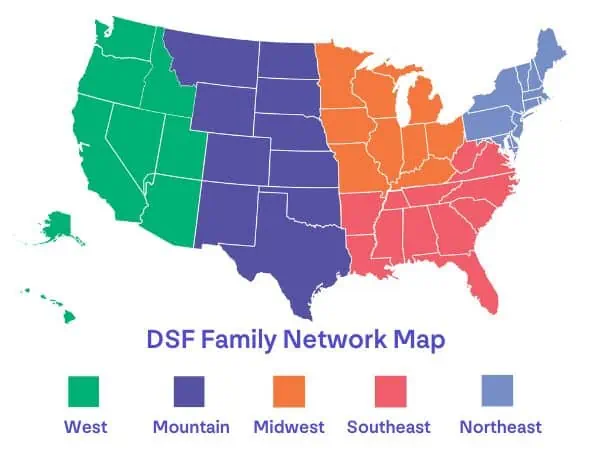 Northeast & Southeast Family Network Ambassadors
Midwest Family Network Ambassadors
Mountain Family Network Ambassadors
Click here to fill out an application if you are interested in becoming a Family Network Ambassador. 
West Family Network Ambassadors