Comorbidities in Dravet Syndrome
Dravet syndrome is a developmental and epileptic encephalopathy (DEE), part of a group of severe epilepsies with frequent and difficult to treat seizures as well as significant developmental delays. This means there is a lot more to Dravet syndrome than just seizures. Below is an overview of some of the comorbid conditions and symptoms that are often associated with Dravet syndrome, including links to resources to learn more about what we know and what research is still on-going. Not every patient will experience all the symptoms listed, and the severity can differ greatly from one individual to the next. Dravet syndrome can present along a spectrum, and it is not possible to predict how significant the impacts on each symptom may be for each patient.  It is important to be aware of symptoms patients may encounter and how to best intervene when necessary, but we also encourage caregivers to approach their child's future with optimism knowing each patient is unique.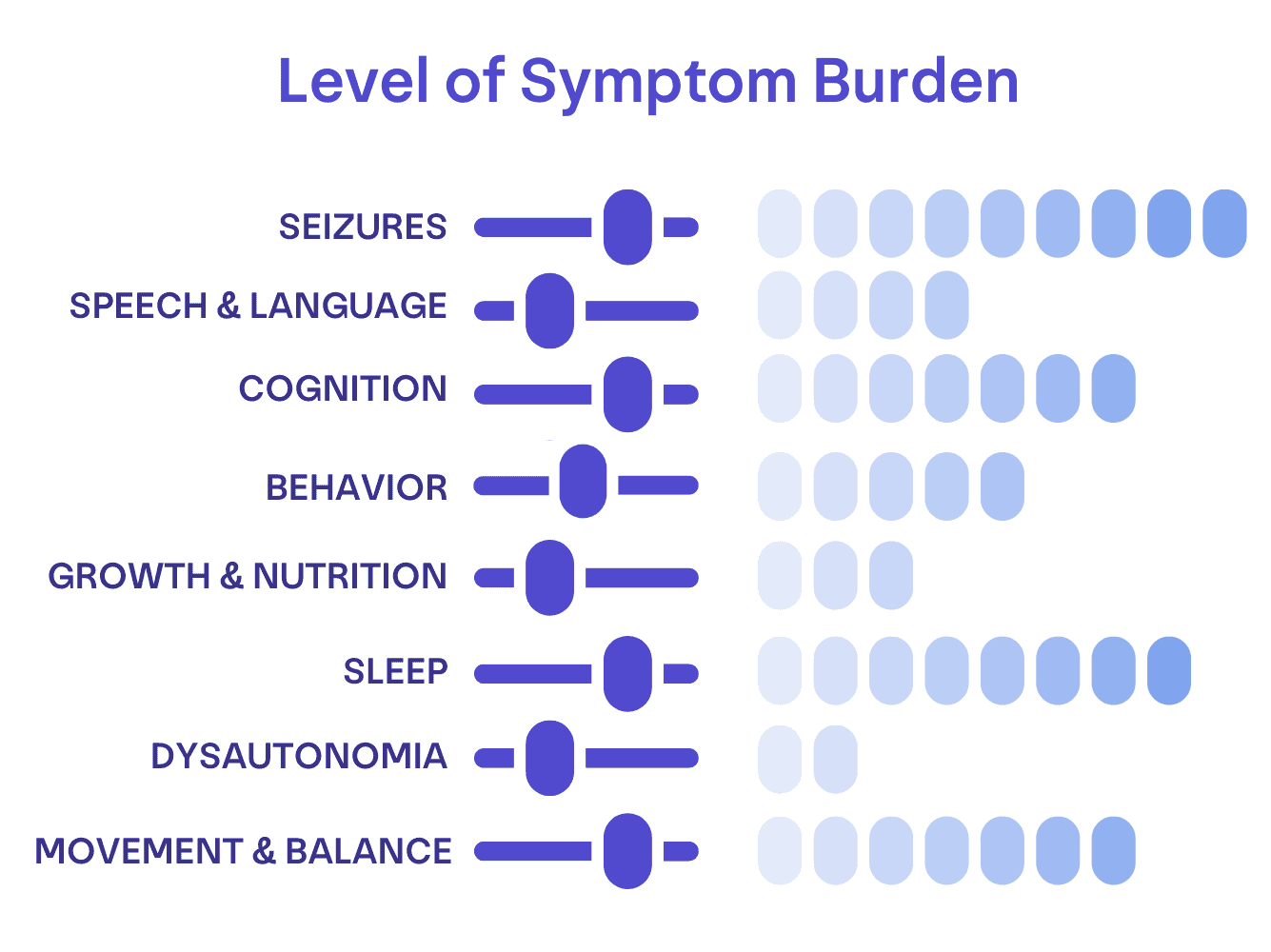 Developmental milestones are generally on track during the first year of life, but by school age, children with Dravet syndrome have varying degrees of developmental delays that may impact learning, cognition, speech, language, and motor development. Young children may experience regression or slowing of skills. Studies of teens and adults with Dravet syndrome indicate the majority of patients have moderate to severe intellectual disability. Early intervention and access to special education supports in school years are important to ensure each child reaches their full potential. Participation in physical therapy, occupational therapy, and speech therapy is encouraged, based on the patient's development and needs. While the underlying genetic cause of Dravet syndrome (a mutation in the SCN1A gene) likely contributes to these delays, there may also be impacts from seizure frequency and severity, side effects of medications, or the use of contraindicated medications (such as sodium channel blockers that might be utilized before a diagnosis is received). Awareness of Dravet syndrome is increasing and, with advances in genetics and genetic testing, children are receiving diagnoses earlier than ever. Additionally, new medications have been approved for Dravet syndrome in recent years that are helping many patients to achieve better seizure control than was possible in the past. It remains to be seen if access to appropriate care and improved therapies during early development will improve the long-term outcomes for children and adults with Dravet syndrome.
Autistic-like traits, Attention Deficit Disorder (ADD), or Attention Deficit Hyperactivity Disorder (ADHD) are common in Dravet syndrome. Your child may be predisposed to perseverate or become obsessive about specific things. Irritability and aggressive behavior are also common, and while challenging at all stages, these behaviors can become particularly difficult to navigate as children grow larger in size and reach adulthood. Unlike some other traits shared with autism, patients with Dravet syndrome are often overly social, although some may prefer interactions with adults versus peers. There are also reports of depression or anxiety, especially as children approach teen and adult years. Families often consult with behavioral therapists or implement behavioral therapy routines, and medication may help with behavioral and mental health concerns to varying degrees. A neuropsychiatrist or neuropsychologist can help navigate the available options, and it may be helpful to find a provider who will form a collaborative relationship with your child's neurologist to best manage their care and any medication changes.
Issues surrounding sleep are a concern in Dravet syndrome. Sleep disturbances can be common across many developmental epilepsy syndromes and often the circadian clock (or the internal daily rhythm) appears to be altered. Your child may struggle to have a regular sleep pattern, which can be difficult for the entire family. Treatment options are limited, but some families have found melatonin supplementation under the guidance of their physician to be helpful. In addition, seizure activity during the night or in sleep can become increasingly common as children age. If nocturnal seizure activity occurs in a regular pattern, some families discuss options for changing medication dosages and times with their neurologist to provide the best coverage during at-risk times of the day or night. Many families choose to utilize night-time monitors such as a baby monitor, pulse oximeter, or seizure detection device. Seizure detection is important, as prolonged seizures without intervention could increase the risk of status epilepticus (prolonged seizures) or SUDEP (sudden unexpected death in epilepsy).
Gait or other Motor Impairments
Issues with movement, balance, and gait, as well as low muscle tone and impaired dexterity, may become apparent as children develop, and these issues often progress throughout their lifetime. Adults with Dravet syndrome often have a "crouched gait" and in some cases may require assistance with mobility. Children should be screened for gait issues regularly. Support from physical and occupational therapy is often recommended and some patients utilize orthotic devices. Encouraging play activity that involves the whole body may be beneficial to retaining mobility. Many families recommend therapeutic horseback riding (hippotherapy) and aquatic therapy to help develop and maintain core strength. Unfortunately, the progression of these issues is not well understood and there are not expert recommendations for the best treatment approaches. It is not uncommon for patients to use adaptive strollers as they get older to assist with traveling over long distances or for recovery after a seizure. Research into these issues is ongoing.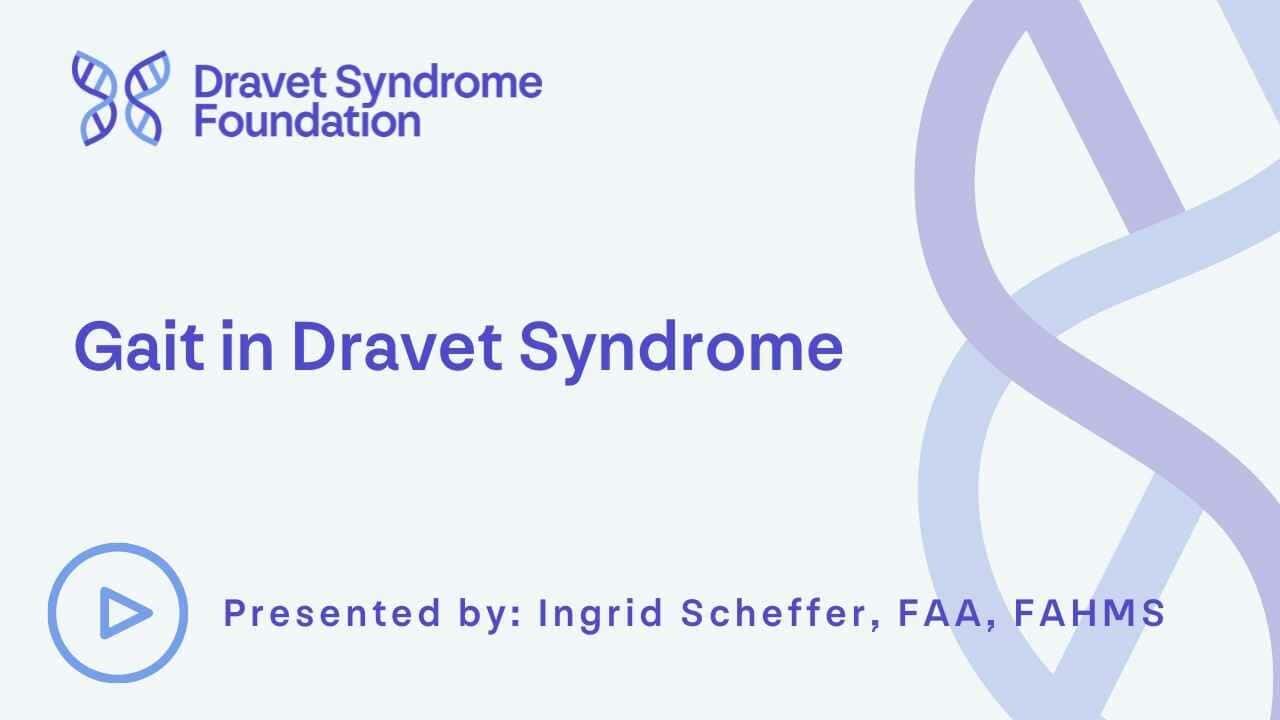 There have been limited studies on the heart in Dravet syndrome, but some evidence suggests there could be changes in heart rate and/or heart rhythms. The SCN1A gene is also used by cells in the heart, perhaps explaining these risks. Some researchers think the increased risk of SUDEP (sudden unexpected death in epilepsy) in Dravet syndrome may be related to these subtle changes in heart regulation. Cardiac health should be closely monitored and referral to a cardiologist may be recommended if any issues arise. A newly approved medication for Dravet syndrome (fenfluramine) also requires that cardiac health is closely monitored. Patients taking this medication are required to have echocardiograms every 6 months to monitor for risk of valvular heart disease.
Dysautonomia is when your body is unable to regulate certain autonomic body processes such as body temperature, heart rate, and digestive processes. It is not understood why this occurs commonly in Dravet syndrome. Because drastic changes in temperature or overheating can be a seizure trigger for many children and adults with Dravet syndrome, families often take additional precautions such as avoiding particularly hot or cold water, attempting to tightly control the ambient temperatures of their homes, and utilizing cooling vests. The underlying cause of dysautonomia is not well understood. Your health care provider may prescribe medication aimed at controlling symptoms.